Poor man's T-Virus cylinder prop cases virus, antidote and amber
So I was looking at the cool Umbrella Corp pistols from Resident Evil I'd done and thought 'you know what would go nice with them, some Resident Evil T-Virus vial props'. I had a few clear tube options, from glass to plastic to rubber and opted for the one that was a mix of plastic and rubber. The reason for this is I figured cosplay props that can be thrown, dropped, squashed and generally treated roughly would be better than something made of glass or thin acrylic that might easily break. These T-Virus vials are great for sitting on a shelf as a prop, used on a uniform, or even flung across the set of a fan movie.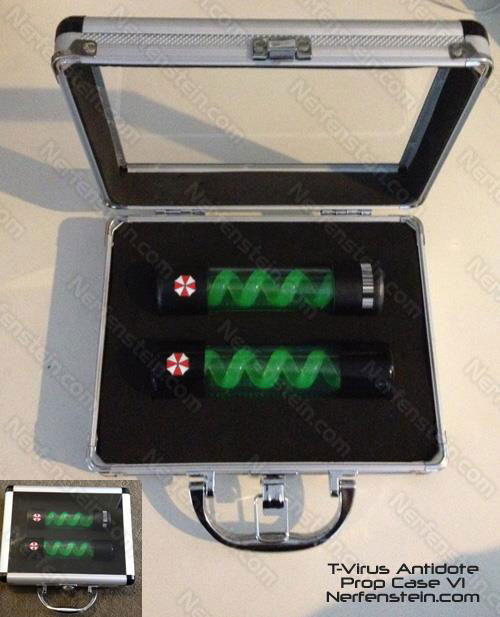 I managed to find a pretty sweet aluminum case with an acrylic lid, though it was expensive, so that pushed the price up a bit. Still these were pretty popular at Supanova GC and I sold all of the ones I had. I will be making more for when my online store opens however, so anyone in Australia looking for cheaper T-Virus props, I'll have them available in the double aluminum case, small singled plastic cases or as single virus vials sans case. The colors are blue, green and orange.
Post written for GirlyGamer.com.au.
Keep up to date with my modding antics on Facebook – Nerfenstein.