Easy Umbrella Corp cosplay blasters
Finished these cosplay / display props today (it's only taken me about 4 months lol). Resident Evil Umbrella Corporation pistols. Both are fully weighted, so when you pick them up they feel like they're made of metal, not plastic, great for realistic cosplay (assuming they'd be allowed).
I do love these guns, but they're for SupaNova, it's a shame the photo isn't showing up all the detail on the weathering and multi-toned grip (5 varying shades of brown, I kid you not!), but thems the breaks.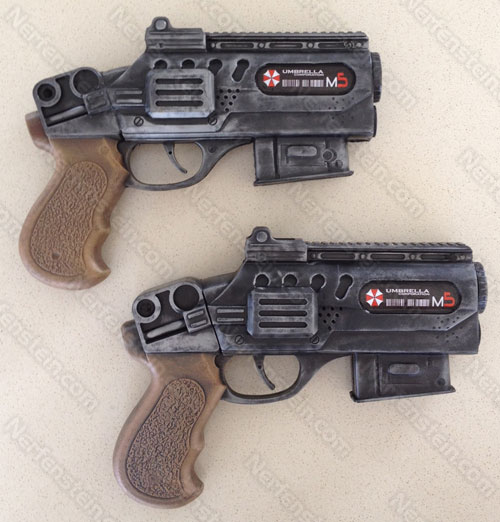 Resident Evil is – for the most part – a great gaming franchise. I've owned almost all the video games released thus far, including that god awful Wii game Resident Evil: The Umbrella Chronicles (don't judge me, I wasn't to know!). Anyway, you may well see a few more Resident Evil mods coming this way shortly, since I have a PDA prop I started working on WAY back when I started these.
Here's a before and after pic of these guns for those that wondered.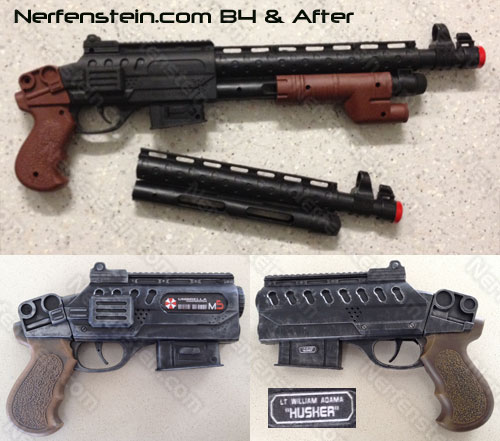 If you want to see a better picture of the Battlestar Galactica mod I did last year, you can see it here.
Blaster mod post written for GirlyGamer.com.au and fired to Tumblr and other social networks via particle beam accelerator.
Why not join me on Facebook for more mods and blaster props!