Mini Blade Runner homage blaster
The Nerf Super Soaker Microburst is one of the new blasters in the Super Soaker range and I have to say, I love it. There's just something really cool about this little gun. The downside of modding the Nerf Super Soaker Microburst has to be removal of the logos. The Nerf logo sits smack bang in the middle of the textured grip and the Super Soaker logo is deep and runs along the main body. Those issues aside this little blaster has so many possibilities, I only wish I owned more, I'll definitely be picking up a few more in the future.

If you've been following my exploits for awhile, you may well know I am a fan of Ridley Scott's movie "Blade Runner" and I've done a couple of little homage mods previously including a weird steampunk inspired revolver and a Nerf Vortex Proton.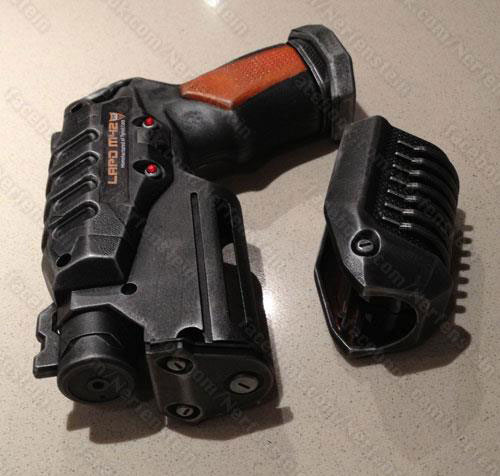 The Nerf Super Soaker Microburst makes a great little Blade Runner gun because it has that science-fiction blaster feel to it. I added in some fake LED look glass on the screw areas on each side, and a fake slide switch on one side to sort of mock the well known Blade Runner 2019 LAPD sidearm. Also some decal love of course and finished.
Post written for GirlyGamer.com.au and fired to Tumblr and other social networks via particle beam accelerator.
Why not join me on Facebook!