Hand-painted unicorns by Hungry Designs
You may or may not have noted the lack of Nerf / Blaster mods recently. We're in the middle of another storm watch situation here in Queensland at the moment. Though not as bad as the devastating floods of last season, it is affecting my blaster mods negatively. I had planned to do a couple of blasters a week for the upcoming SupaNova event, but sadly this last week has been a total blowout… rain rain and more rain. Given I spray paint outside (obviously) I've had to retreat inside to get my crafty fix… that's where these unicorns come in.
I was asked by Hungry Designs to handpaint / mod some of her amazing unicorn brooches. Given I used to love painting small RPG miniatures I thought this sounded fun AND you can do it inside!
I did a LOT of different ones, I'll post a couple of mix images at the bottom, but here's a few.
Thanks to a suggestion on my Facebook page by my good buddy Gerrard, I bring you the Terminator Unicorn!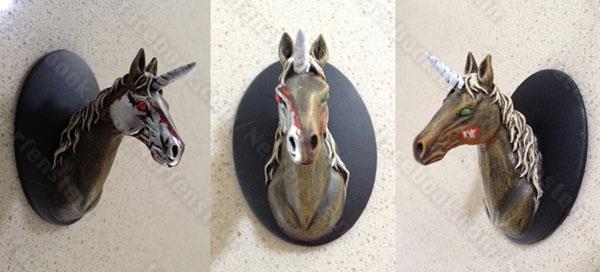 This has a cool chrome shiny finish on one side and on the damage on the other cheek that doesn't show up great here in a picture, but looks pretty sweet in reality.
"I'll be back!"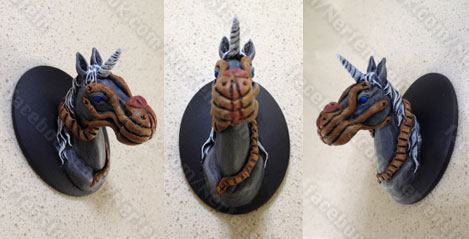 This is one of my favorite unicorn mods so far, the "Muzzle Hugger". Needless to say this is a take on the Alien franchise "Facehugger", but tweaked to fit over a horse. I gave it a more parasitic look because that fit better over the horse muzzle shape. I also wound the 'tail' around the unicorns neck for effect.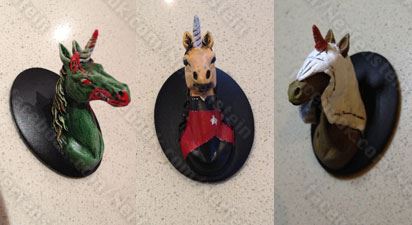 This is another of my favorite unicorn mods, "Zombiecorn" the zombie unicorn. I'd originally finished this one minus the rotting flesh on the side of the muzzle, but thought it didn't quite look right, so I painted in the teeth and some bloody flesh to make it look like it had been eaten away. That's a Riker – Star Trek – unicorn in the middle and Ezio from Assassin's Creed on the end.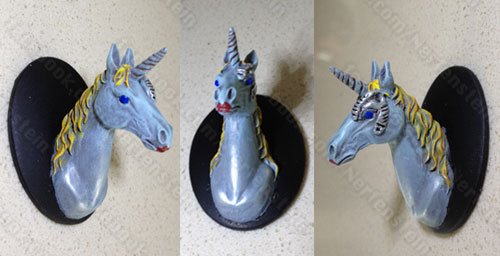 Another personal favorite unicorn mod has to be this Star Trek Seven of Nine unicorn. I went with strawberry blonde hair and a blue / grey / shiny look to mirror that of Seven of Nine's hair and attire. Added the Borg eye-wear and lipstick lol. Thanks to Nathan on Facebook for the suggestion. HungryDesigns.com
Here's a couple of mixed images. You'll spot loads here.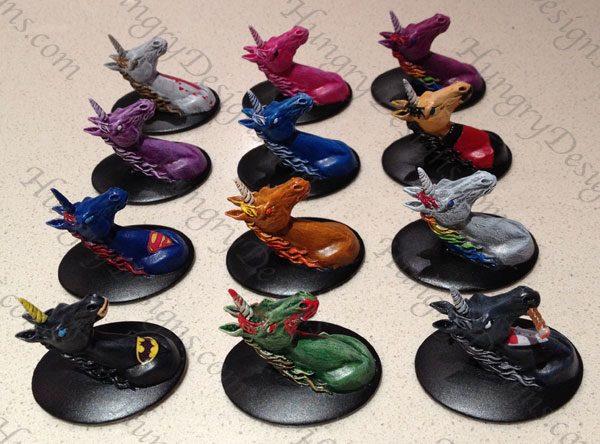 They are all hand primed and painted, as well as some protective coat to finish off. These are also available on commission, so just contact Hungry Designs if you've got a particular one you'd like.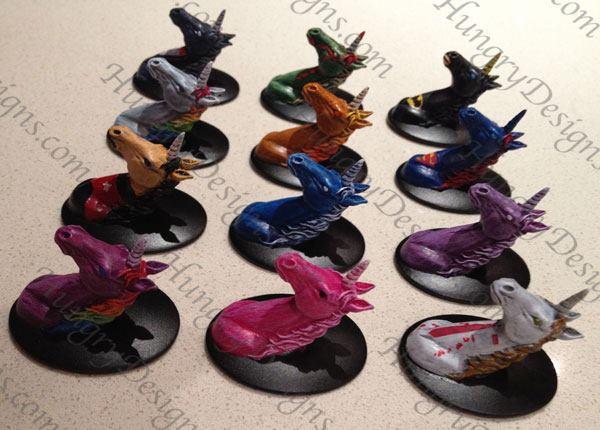 If you're seeing this on Tumblr or Posterous *ALARM SOUND* Head over to the actual Nerfenstein Blog to see more mods and leave comments, or of course the Nerfenstein Facebook Page.. I'd love to see you there..