Star Wars Nerf blaster pistol extension
Back again with another Nerfenstein blaster, this time a Star Wars blaster pistol, made from one of the Star Wars mini foam blasters. I bought a double pack of the Star Wars mini Nerf style blaster pistols months ago and had no idea what to do with them, then it struck me, they're Star Wars, why not do a Star Wars mod (DUH!).
Those who follow me on Facebook will know I like using odd bits and pieces from time to time in blaster modifications. I had some hair-rollers I'd bought to use as muzzle brake / suppressors and this little blaster needed some size adjustment, so it was on with some plumbing coupler and the hair-roller on the end. This fit so perfectly over the nose of this blaster it's almost seamless. It also gives the blaster a sort of chunky Han Sol / Princess Leia weapon look, which I love.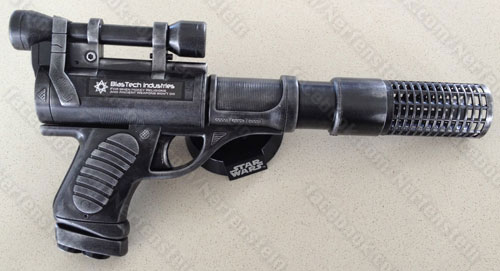 You know I love my decals, so I made one with the Blasters logo and "For when hokey religions and ancient weapons won't do' and put it on both sides of the blaster, just for a little bling / fun.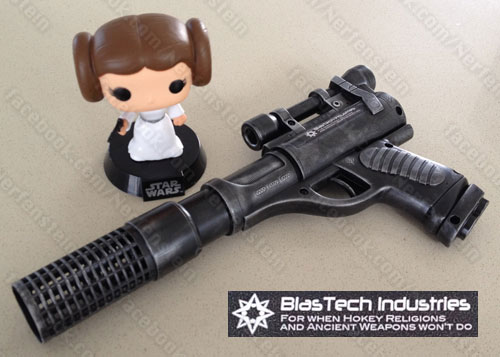 All in all I love this mod and I threw Princess Leia in for good measure, after all only Chewbacca has bigger hair and given this mod uses a hair roller… well…
Till next time Nerfsters!
Don't forget to join me on Facebook and Twitter for regular updates!