Man this went so wrong. I'm making a couple of AER9 laser rifles at the moment for commissions, so needless to say, the AER9 has been on my mind a bit lately. For non Fallout fans, it's a weapon that appears in the "Fallout" series of video games. It's an iconic weapon due to its cool and very distinct style. The AER9 is sort of this epic, post apocalyptic chic piece of art deco meets art nouveau, meets metalwork dystopia. Overall, a pretty sweet mix.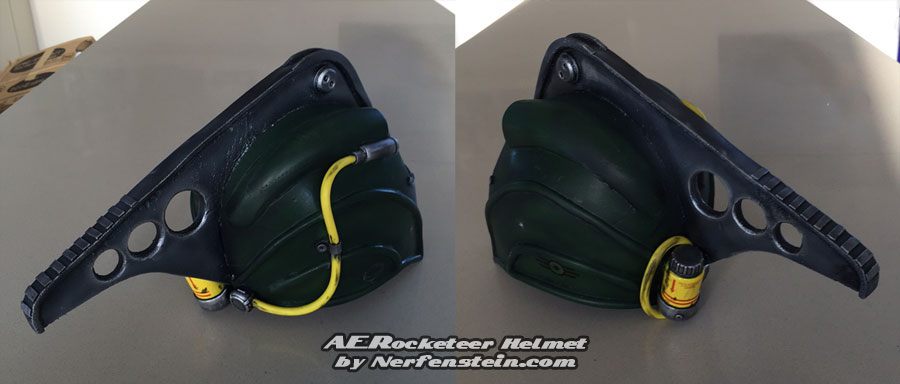 I'll include an image of the Fallout AER9 I made ages ago below, so you can see what it looks like. Hopefully you will be able to see where I borrowed from it for this rather odd build. The title of this post will soon become clear.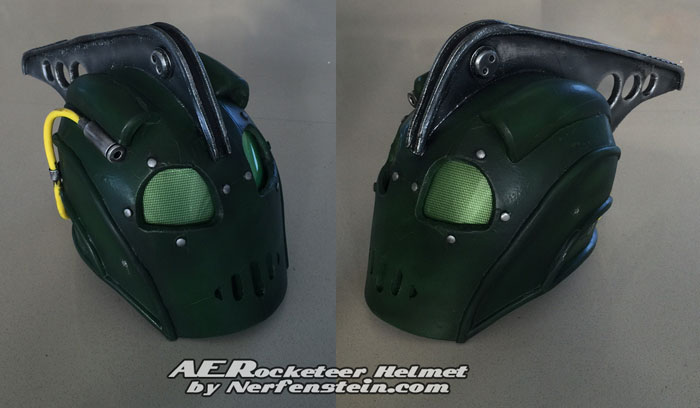 You Can't Polish a Turd, it's not a pleasant saying, but it suits the occasion. The Rocketeer Helmet that I posted last week, I was really unhappy with, it was a turd. No amount of work was going to fix its problems and have it remain a Rocketeer helmet prop. Having said that, sometimes you can 'Disguise A Turd' and that's what I've done here. I reimagined the Rocketeer helmet into how I thought it might look if the designer of the AER9 Laser Rifle in the Fallout universe also designed the helmet. Here's the result: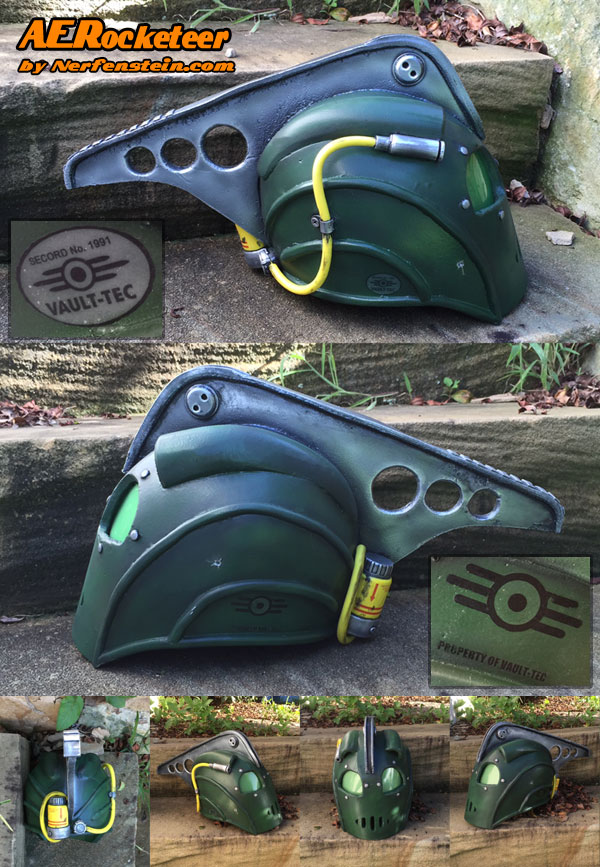 There she is, the AERocketeer helmet in all her microfusion celled glory. Tried to inject a little Rocketeer / Vault-tec crossover, like Secord No. 1991 (Cliff Secord is the name of The Rocketeer and 1991 is when the movie released). I made the battery to represent the AER9 battery. I left off the radiation warning and warning tape because I didn't want it to look like I'd just stuck everything on there I could. Everything there was done with purpose, even the green plastic in the lenses (green screens on Pip-Boys). Most importantly, the golden turd looks better in its Fallout form, though still not perfect, it's better than it was and more a talking point. Remember.. sometimes don't go with the obvious, go with what's in your crazy little mind!

Till next time people… what do we say?! …. DO GOOD THINGS!

———==oOo==——— Originally written for GirlyGamer.com.au home blog of Nerfenstein / GirlyGamer / BoardGameGran. Catch up with me on my Facebook page, or if you Tweet… there's always Twitter and guess what, I actually reply!