Raiden cosplay ftw!
Hi funsters! Another week, another finished commission. This time it comes from the lovely Isobella and her epic Raiden cosplay project. I have to come clean, you know I'm a HUGE gamer, but the Metal Gear Solid franchise is one that I've never 'got' (flame me at your will lol). I've bought 3 MGS titles over the years and none have gripped me. From memory the last Metal Gear game I bought had cut scenes so long I thought I'd bought a movie.
Anyway I thought I'd share, because usually I'm doing gaming props for video games I really love myself, but in this case not so much. Not that that changes the process. I just include that info for full disclosure, because we're all friends here… am I right!

I usually work in MDF for blades, but on this one went with treated pine and I'm glad I did. Tip: Pine doesn't do that annoying 'fluffing' on the tip that MDF does (because MDF is essentially pulp). Given this was going to be in and out of a sheath, pine was a winner. The WIP above shows the shaped blade with that weird Metal Gear Solid grip. Adding the texture between the grip and the upper decorative parts made it look cooler than just plain flat.

Odd for me paint style wise. I usually like shading and detailing, but in all the reference images for this it was pretty flat, black, grey with some gold detail, so that's what I went with here. Electronics were a pain because they needed to sit within the sheath, while still having room for the sword and if you look at the design, the sword goes right by the lighting exit. When I did it the first time the blue just wasn't bright enough, so I went in and added aluminum foil, yes, another little tip, if you want something to reflect and make light brighter, use the shiny side of foil to push the light out.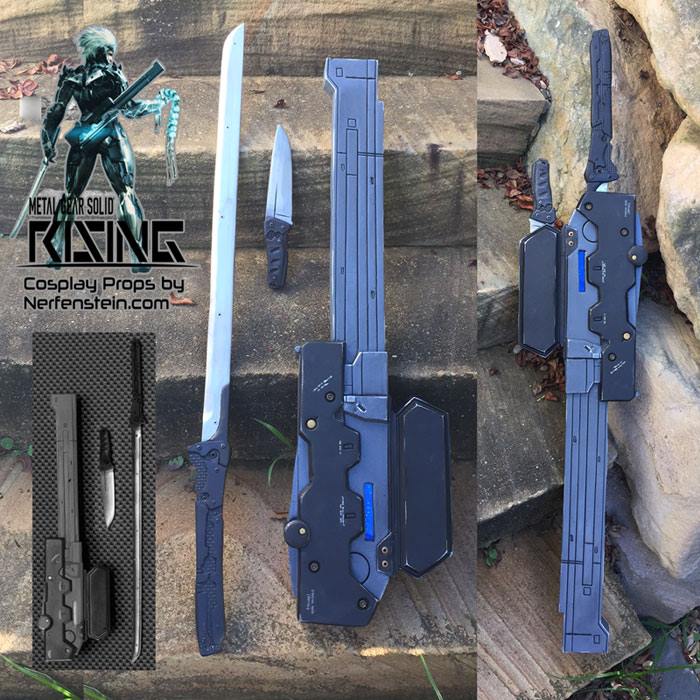 The knife wasn't actually in the commission, which was for the sword and sheath, but I needed a Random Act of Kindness for January, so I made the knife and threw it in, kind of finished it off. So that's it, another prop done. I honestly can't wait to see this in full cosplay swing. Isobella was a lovely client to work with, I wish her well in her project.
Till next time people… what do we say?! ….
DO GOOD THINGS!
———==oOo==———
Originally written for GirlyGamer.com.au home blog of Nerfenstein / GirlyGamer / BoardGameGran. Catch up with me on my Facebook page, or if you Tweet… there's always Twitter and guess what, I actually reply!