Left 4 Dead cosplay prop
Featured Props: Let me preface this prop post by saying the pipe bomb is for indoor display use ONLY. You would be an idiot to take this anywhere that is considered a public space, because although made of plastic it looks realistic. Right here we have two props, the Boomer bile bomb from video game "Left 4 Dead" (one of my favorite games) and a pipe bomb prop from the movie "Terminator" (one of my favorite movies). They use pipe bombs in "Left 4 Dead" also, which is where the original idea came from, but in "Left 4 Dead" the pipe bombs have the beeping timer light on them and I didn't have those parts handy, needless to say you could EASILY mod this to include that, as it pretty much just sticks on the side.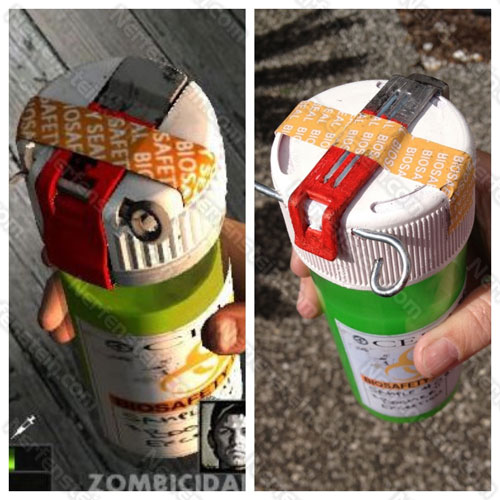 Difficulties: The hardest part of the Boomer bile bomb prop build was finding that lovely viscous green slime. I ended up picking up a couple of toys that were essentially little barrels of green sludge… perfect! If you can't find that you could try some PVA mixed with green ink, should work given this needs to be airtight anyway.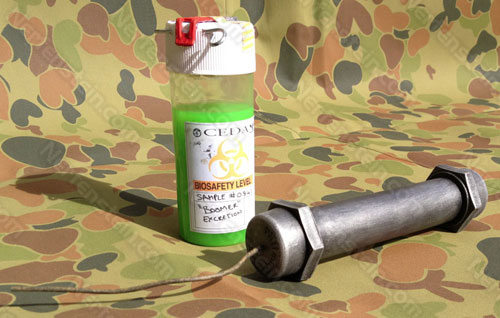 Making the pipe bomb prop: The pipe bomb prop was made more realistic by filling the PVC with plaster, so it's really heavy when you pick it up, as it would be in reality.
That's all folks! As always you can commission me to make these props and others, should you want them for display, movie making or cosplay.
Post written for Nerfenstein's official blog GirlyGamer.com.au
Catch me on Facebook at the Nerfenstein official page, for hints, tips, updates and general geek banter.