Mass Effect N7 ammo boxes for Normandy crew members
As well as all the blasters I'll have at Supanova on the Gold Coast, Australia I'll also have some sweet ammunition / munition boxes for sale. This one is obviously the N7 Mass Effect homage with the tungsten VII ammunition ordered specifically for appropriation to the Normandy SR-2 by Commander Shepard.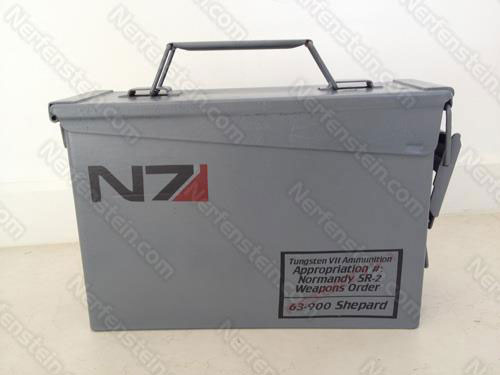 These are real ammunition boxes, cleaned, sanded and resprayed, featuring professional model decals I designed in photoshop, so these look killer on the box as they're not just 'stickers'. The N7 logo features large on the 'front' and a smaller one appears on the back. The only real problem with these boxes is their weight, these things are full metal, so pretty hefty. I will have them in my shop when it launches, but I imagine postage won't be fun.
Post written for GirlyGamer.com.au and fired to Tumblr and other social networks via Mass Relay.
Why not join me on Facebook for more blaster and prop making madness!