Gears of War Lancer but smaller!
The Gears of War COG Lancer chainsaw pistol was made as a display prop, it took me many (MANY) hours. This bad girl weighs in at around 700 grams, nice and weighted to feel meaty. Went with the battered to hell look, though no blood spatter, the Lancer pistol has been to hell and back. Nerf eagle eyes will spot the use of the Nerf tactical mission red dot scope and the Element X-6 as base pieces. This thing is great for close encounters, though it's really an art piece that should sit on a shelf somewhere so people see it and go "WTF is that gun?" to the owner lol.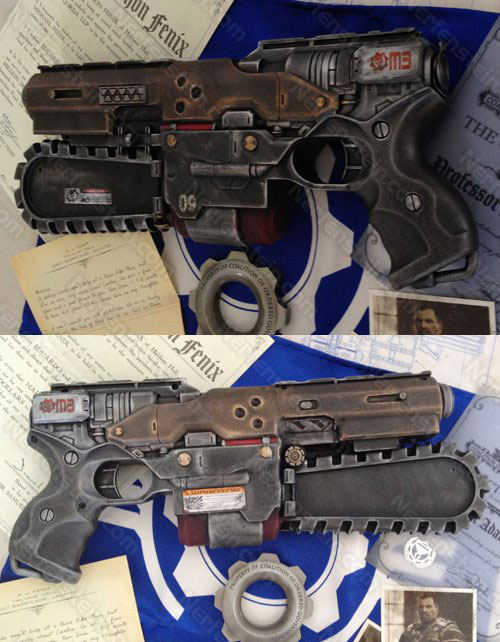 I staged it for funsies with all my Gears of War papers and official COG medal thing. This build took a long time as it was gutted, weighted and obviously had the additional 'barrel' section added so it looks like that's how it came. I went with a grungy paint job, a mix of brassy and dark steel type colours. You can't tell but there's around 8 different metallic shades on this thing to bring out all that detail.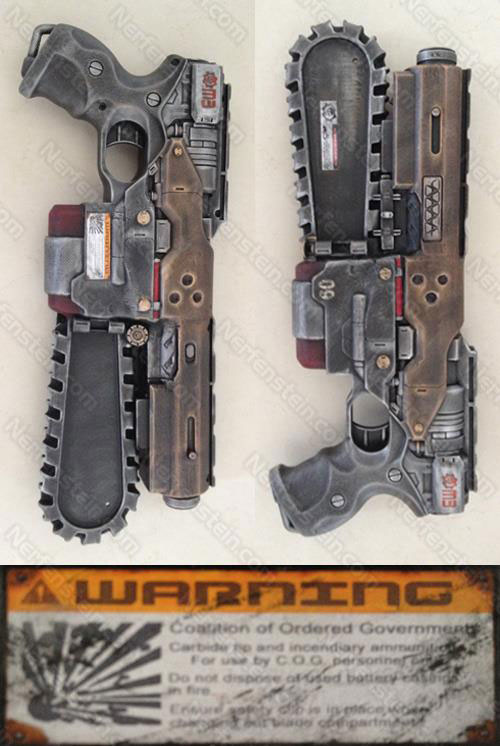 Hope you like it.
Post written for GirlyGamer.com.au and fired to Tumblr and other social networks via ballistic means.
Why not join me on Facebook for more blaster and prop making madness!