Mass Effect Assault Rifle Nerf Praxis mod
The M8A – 'A' for I added that to differentiate from the M8 lol.
Just a quick weekend update modsters! The last week or so I've been working on a Nerf Praxis. This gun is a nightmare to sand, it literally took a couple of days, hours in each. The paintwork on it is tough to get off and there's plenty of little nooks and crannys that you'll never truly get everything off, even with loads of time / effort.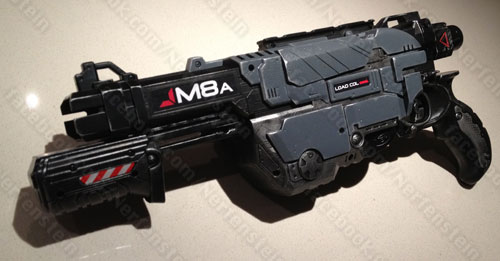 I took a look at the Praxis and one part of it inspired this mod, the curvature of the main plating at the back. This immediately reminded me of the M8 Assault Rifle from videogame Mass Effect. I decided this was meant to be and set to work with the usual priming and then did the plating in grey after drybrushing in all the detail work beneath the plating.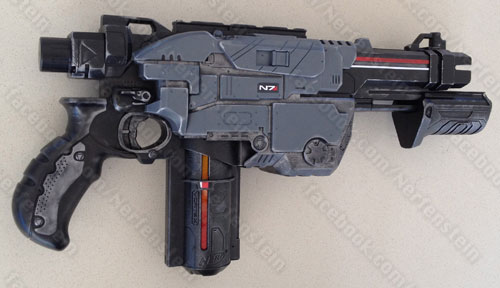 For the ammo magazine I decided to pay homage to the M8's heat exchange (I am assuming) with transparent sheeting running from red through orange to yellow. This looked okay, but I decided to add a color change LED to the tube, this illuminated the entire ammo / magazine tube and cycles through red, orange, yellow and green. I might make a video if I get time as the photos don't show the cool cycling effect obviously. Still I took a few photos in low light to show you the overall effect.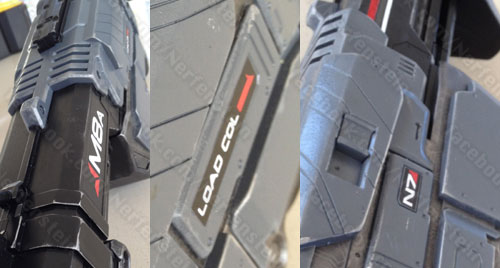 For the stock I went basic metal-look, after drybrushing in the detail between the stock body and butt end. On a side note I also left the Nerf logos on the ammo / magazine, something I usually don't do, but I liked the detail on it so if you're wondering why it says Nerf on there, that's why.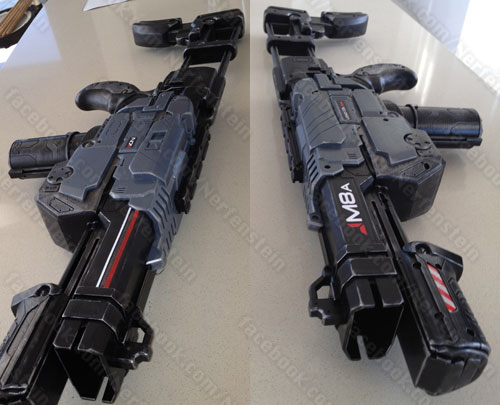 Hope you liked this latest mod.
Till next time people… what do we say?! ….
DO GOOD THINGS!
———==oOo==———
Originally written for GirlyGamer.com.au home blog of Nerfenstein / GirlyGamer / BoardGameGran. Catch up with me on my Facebook page, or if you Tweet… there's always Twitter and guess what, I actually reply!