Toy refurb Fallout Pip Pad and Nerf mod
If you're a "Fallout" fan (a video game), you'll get the homage, if not you're probably going to wonder what's going on here. This is a Fallout inspired Nerf Vortex Proton blaster mod, along with another toy mod, the PIP-Pad. Both of these mods / props feature some basic electronic work, with the proton blaster mod sporting a yellow LED and switch (both integrated seamlessly into the shell for aesthetic reasons), whilst the PIP-Pad features a light up screen and green glowing (3 LED) fuel-cell / battery area (both running off the same power source). Oh the PIP-PAD mod is also weighted, so it feels more like metal when you pick it up.

Fallout Nerf Blaster Pistol Mod
The basics of this Nerf mod
Well as you can see this Nerf mod is on a Nerf Vortex Proton handgun. This is probably my favorite pistol in the new Nerf range, because it's got loads of little areas you can switch up when modding. I had decided early on to add a tiny PIP-Boy to one side of this gun, whilst making the opposing side a homage to my favorite little Fallout game dude Vault-boy. Needless to say the blue and yellow is a shout-out to the Vault 101 jumpsuit colors. I also designed a "Far Go Traders" decal for fun and added that to bring that bullet area together.

Fallout PIP-Boy 3000 micro mod
Tiny Mini PIP-Boy 3000
Just a quick bit of info on that oh so tiny PIP-Boy. I made this Mini Pip-Boy 3000 out of some old balsa wood I had laying around, along with an image, some tiny half beads, an RC car gear part and last but not least the plastic off a Buzz Bee ammo box for the screens glass.
I wouldn't be jamming this Nerf mod in and out of holsters, so the durability of the Balsa wasn't an issue for me, this is more for a shelf somewhere. Needless to say this was very fiddly given the overall size, but it looks cool on the final mod, so can't complain.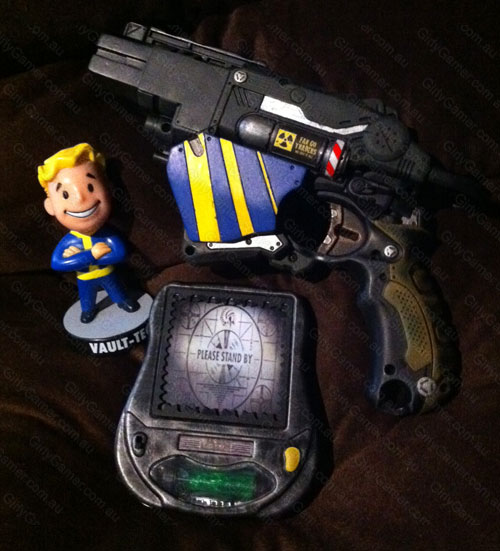 Fallout Nerf Blaster Pistol Mod
RobCo PIP-Pad from toy to Fallout prop
I spotted this toy in the toy store and thought it needed modding / made into a prop, so I decided to add it to the Fallout homage. I went with the RobCo PIP-Pad for inspiration and it turned out better than expected. I hooked up a triple green LED bundle to the screen power supply and installed them in an acyclic tube with foil base and plastic green tinted inner. It's a shame the glow effect on both the screen and the power-cell area doesn't show up that great in any of the photos I took with it turned on.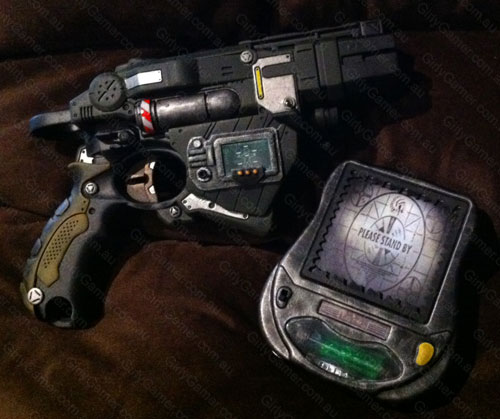 Hope you've enjoyed this latest prop and Nerf mod!

Join me on Facebook for more interaction and other modding and prop guff!

This post written for GirlyGamer.com.au and fired in post-apocalyptic manner via Nerf to other social networks.