It's adorable and it's Stonemaier Games, it's My Little Scythe
Some games will never fit into a video review that's restricted to under two minutes (as all the videos – other than vlogs – are on my channel), My Little Scythe is one such game. I received the game a couple of weeks ago and had to get it to the table. The game comes from Stonemaier Games, one of my favorite publishers.
There's an adorable story to the creation of My Little Scythe. A fan of Scythe wanted to make a game for himself and his daughter to play. He did a fan-made version for his daughter, with her help. It was so well received, it caught the eye of Jamey Stegmaier himself (owner of Stonemaier Games) and the fan project became a proper published game.
Which brings us to this review
My Little Scythe is an adventure game, in which you move your adorable characters, collect resources, complete quests, become friends, or pie throwing foes, all with the objective of earning trophies and thus winning the game. We are looking at a very light area-influence, pick up and deliver game. There's a little competitiveness to it, but it's all done in fun and with real heart.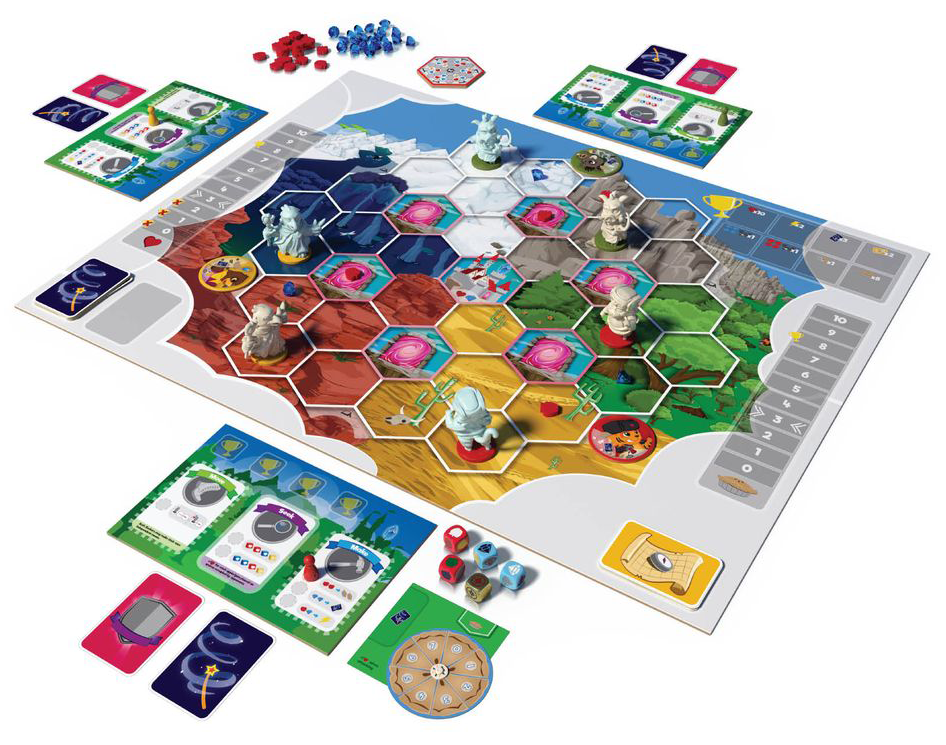 Components
Component wise, this is a Stonemaier title, so it is all class. The components are beautiful, little wooden apples and gorgeous big gems (proper gems, not those gem pieces we get in many games) look and feel lovely. The figures are stunning and adorable. There's even a little painting guide for suggested colors if you want to paint them up in. The board, player boards, tokens etc. are all nice and think (sidenote the board is massive). The cards are lovely and there's a moulded plastic insert. Lovely shelf presence with the nice big box too. This isn't a little kids game box, it's big and solid.
As the gameplay goes My Little Scythe seems to be made for adult gamers who wish to share the joy of board gaming with those younger in their lives. It's made for ages 8+ and I would say even a smart 5+ could get the hang of it. I don't really see it as a game adult game groups will play over and over themselves, though it does have a little strategy that adults can enjoy. As a family game though, it's a lovely thing.
There's an element of luck with dice rolls, which some players may find annoying (someone in our group did) and it definitely works better at larger numbers, 4 would be the sweet spot, but it plays 1-6 players, yes there is a solo mode.
Overall
I enjoyed My Little Scythe and was highly impressed – as usual – by the workmanship that has gone into it from Stonemaier Games. The rules are straightforward, the components are beautiful, the gameplay is light but fun. If you're a board gamer with kids in your family or group, I'd have no problem at all in recommending My Little Scythe to you.
Game Details

Name
My Little Scythe (2017)
Complexity
Medium Light [2.02]
BGG Rank
754 [7.26]
Player Count
1-6
Designer(s)
Hoby Chou and Vienna Chou
Artist(s)
Noah Adelman and Katie Khau
Publisher(s)
Stonemaier Games, (Self-Published), Albi, Arclight Games, CrowD Games, Delta Vision Publishing, Ghenos Games, Maldito Games, Matagot, Mirakulus, PHALANX and Spiele-Offensive.de
Mechanism(s)
Area Majority / Influence, Dice Rolling, Force Commitment, Grid Movement, Pick-up and Deliver, Solo / Solitaire Game and Take That