How to Do Simple Green Screen FX with Keynote – Video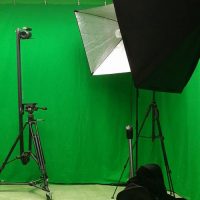 A Super easy way to do green screen effects with Apple Keynote (and I assume Powerpoint)
A few people asked me how I do some green screen text effects, so I decided to make a short video. Green screen text effects are great to use in your YouTube videos as it allows for information to be displayed over your video and also to give it some sort of movement, rather than just a static image.
Apple Keynote is needed for this particular tutorial, but you can no doubt do something similar for green screen effects if you have a similar program (like say Powerpoint on Windows). The same process should lead to the same cool effects.
Check it out below and I hope it helps add a new level of wow to your video content.
Do a Random Act of Kindness, buy someone a coffee, it's fun!
Nerfenstein Out!