John Cox's Creature Workshop Gold Coast fan visit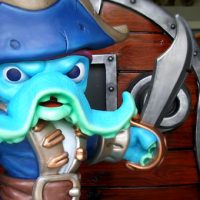 Something happened this week that has blown my mind. Let's start at the very beginning (a very good place to start). In a nutshell my partner contacted someone on the Gold Coast whose work I admire, they wrote back and invited me to their workshop. I was mortified when my partner told me, because I'm a shy retiring type, but I'm glad to say, now the deed is done I wouldn't change it for anything.
My dream job would be working for a creative / in a creative environment (as opposed to struggling artist in a hot garage 12 hours a day) so the chance to see a real, functioning, large scale workshop was amazing. I'd pretty much do anything needed to soak up the kind of magic found in John Cox's Creature Workshop. Even the name, it just emotes magic 'Creature Workshop' love it.
A little background about Mr John Cox and his studio (taken from his website). "John Cox is the recipient of a 1995 Academy Award for Visual Effects for the movie 'Babe', and has more than 35 years in the visual effects industry". Now you can see why I felt so nervous! His workshop "specializes in large scale sculptures for Public Art, Feature Film, Commercials and Theme Parks" and is a "state of the art facility including Laser Scanning, 3D Modelling and 5 axis router services". It is, in a word… EPIC.
Behind the unassuming facade of John Cox's Creature Workshop lay magic. Giant molds, beautiful sculptures and equipment you might see in a Bond film (No Mr Bond, I expect you to die!). I was in heaven in there, it is a prop makers / artists / any mans delight, my eyes honestly didn't know where to look.
I love physical props / physical SPFX and although I know CGI has its place, it just doesn't hold the passion for me like tangible, weighted, 'real' props / FX. There is art in CGI, as a gamer I've argued for years that video games are art, I believe that wholeheartedly. When it comes to SPFX though, my heart always acquiesces on the side of tangible and real. It's just enchanting to see a 'thing' in 3 dimensions, to run your hand over it. The skill and heart involved in bringing the 2 dimensional to life (real life, not virtual) is where it's at for me. It's like faffing in Inventor for hours designing an object, you feel chuffed when you're done and you see it rotating on screen, but when you print it out and hold it, that's where the magic happens. Same with the video game cosplay props I'm asked to make, getting an image and making it a real thing… awesome. John Cox's Creature Workshop makes this happen on a large scale.
Gremlins…. they had… GREMLINS!! I was wearing one of my Gremlins t-shirts. See, magic. Know what else they had in the workshop, oh just another prop from one of my other fave movies, The Rocketeer! A personal project that is ongoing, but the helmet… amazing.
The Rocketeer helmet prop is iconic and such a beautiful design that harkens back to those old adventure serials of the 30's (or one of my favorites "King of the Rocket Men" in the 50's). This is actually on my list of things to try and make in EVA foam, but honestly, nothing is going to beat holding this beauty in my hot little hands, weighty and shiny.
I could gush on, but I'm never going to get across in writing two things I'm wanting to, one, the magic, the utter magic and two, how nice Mr Cox and his lovely wife were in person, gracious and kind, unhurried and helpful. Restores my faith in humanity. If you've somehow found this post because you were looking for large scale sculptures / public art, or because you need a professional artist who is great to work with, go to John Cox's Creature Workshop website and contact them.
Till next time people… what do we say?! ….
DO GOOD THINGS!
Nerfenstein Out!
———==oOo==———
Originally written for Nerfenstein.com home blog of Nerfenstein… Gold Coast based Nerf Modder, Prop Maker / Artist, Geek! Catch up with her on her Facebook page, or if you Tweet… there's always Twitter and guess what, she actually replies! (People who talk about themselves in third person… ugh).