Warehouse 13 mini Farnsworth prop collection W13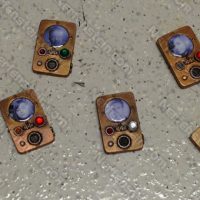 Something a little different this week, the Farnsworth Mini from TV series "Warehouse 13". The Farnsworth is the communicator device used by "Warehouse 13" employees, it's an iconic piece of equipment from the series. I wanted to do a take on the Farnsworth, because I can't afford $400+ for a full sized prop, the mini Farnsworth prop collection was born!
I wanted to do something for W13 fans that was both cute and accessible and this is the result, a cut down version of the iconic Farnsworth prop from the show. This is a resin cast piece, hand detailed and best of all the screen can be personalized, your face, a friends face, or any of the cast of "Warehouse 13" or for amusements sake, any other show / person you like.
I'll be adding these to The Prop Shop in the next week or so, if you want one in the meantime, contact me and if you need it personalized or a specific color (maybe you want a silver mini Farnsworth). The price will be $25 +postage.
That's it for another build. Have a great weekend people!
———==oOo==———
Post written for GirlyGamer.com.au home blog of Nerfenstein… the geek you can catch up with on her Facebook page, or if you Tweet… there's always Twitter!