The Skulls of Touganda from The Phantom – Mini props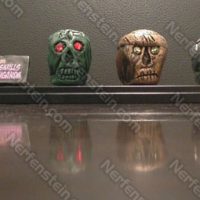 Hi guys and gals, I've been busy working on a few commissions recently and this is related to one of them. I got an email asking for a set of The Skulls of Touganda, three skulls from comic adaptation "The Phantom" ("The Ghost Who Walks", "The Man Who Cannot Die" and "Guardian of the Eastern Dark").
I'm not a Phantom fan myself, but I have a dear friend who loves the comics and from memory had all of them from the beginning. I also saw the movie with Billy Zane, though it was so long ago the purple tighted one is but a distant memory. Apparently The Skulls of Touganda play a role in the movie.
Due to the sort of build I decided to do a small display – test – version of The Skulls of Touganda, just as a practice for the larger prop, but the sculpt and molded version turned out so cute I decided to finish them for display and offer them at a cheaper price (note the image below still needs to be finished, more detailing to add, but I wanted to get this blog post up, so it's a WIP).
You'll notice I also sculpted a little display plaque with the name on it, this features the iconic 'Good Mark' logo of "The Phantom", just because I thought it was a cool design.
I hope you've liked "The Skulls of Touganda" prop build, it's been fun making them, though time consuming. Til next time funsters!
————-==————
Post written for Nerfenstein's blog, a place of wonder and delight in a sea of data… no.. really… wonder and delight.
Check out the Nerfenstein Facebook page.. you know you want to.