Melee Madness! Gaming guns as melee weapons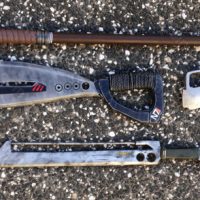 Melee Madness! Gaming guns as melee weapons – So… I got to wondering how the AER9 Laser Rifle from Fallout would look as a sort of machete, drew it up and then went for it with some mdf. This got me wondering what the M8 Avenger from Mass Effect would look like as a cool pirate cutlass type weapon, which led me to the M6 series Magnum from Halo and Battle Axe! Yes.. I know my mind is a little odd isn't it. Still it was a fun project, hope you like them!
I'm not totally happy with these, I really like the AER laser rifle style machete blade, but the other two, well, they're more silly than anything else. The Halo Battleaxe was an absolute nightmare, the head you see here is actually the second one, the first one was a disaster that I needed to literally saw off completely and redo. All of these 'blades' are sharpened, they're not sharp obviously, but they do look like blades, the photo doesn't really show that overly, so I thought I'd point it out.
I think I might add to this collection, it would be cool to do loads of gaming / movie blaster weapons and turn them into melee weapons, just to see what they would look like. Now if only my prop making idol Volpin would do a little deal with me to make these in his superb manner… how freakin awesome would that be!! Well it never hurts to dream… till next time funsters!!
Post written for GirlyGamer.com.au the blog of artist and prop maker wannabe Nerfenstein.