Dwayne Hicks Ithaca 37 Shotgun prop from Aliens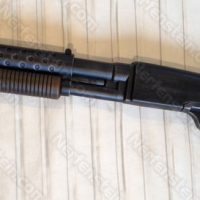 Quick update on the latest mod. This is a toy water blaster I picked up purely because as soon as I saw it I thought of Hicks' Ithaca Shotgun in Aliens. I weighted this so it comes in at over half a kilo, not too heavy, but cool for cosplay. I might mount this on a backboard with an Aliens logo and info, like a display piece, I haven't decided yet.
As you can see this is a more basic paintjob than my usual, but I wanted to make it as realistic as possible.
For those that asked over on my Facebook page, here's the before and after shot. It's a Buzz Bee Water Warriors Hydro Blast. I think I got it in Target, but I imagine anywhere that stocks Buzz Bee will have it.
Hope that helps folks! Till next time!
This post written for GirlyGamer.com.au blog home of Nerfenstein Blaster Mods & Props.