Mass Effect Carnifex turned Paladin pistol foam build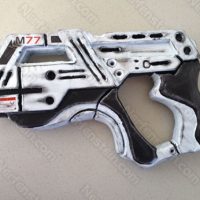 Decided to give a foam build a try, started out as the Mass Effect Carnifex pistol, ended up being a Mass Effect M-77 Predator. Not overly happy with the finished product, but for a first attempt okay.
I changed from the original Carnifex idea to the Spectre M77 Paladin, simply because I don't think anyone has done one before, whereas the Carnifex is out there in the fan realm as a prop build. I actually like the overall look of the M77 more, with its grungy white and striking red and black decal work.
The Caution decal reads this is a Spectre acquisition sidearm and if you're not a Spectre agent and you're caught with it you'll be arrested and the sidearm confiscated… well we can't have just anyone running around with top level weaponry now can we ;p
I took a photo of it with my 1:1 Avenger for size… meaty.
This post written for GirlyGamer.com.au, may well appear on other GirlyGamer social media, but if it appears in full anywhere.. well it's someone being cheeky and using another persons hard work… how rubbish is that? So head to GirlyGamer.com.au for the real deal.
Oh and this build is MEANT to look dirty, it's meant to look grungy and oily and messy, it's a battle sidearm, not a dress weapon ;p