Weapons from Ridley Scott's Prometheus Nerf mod little and large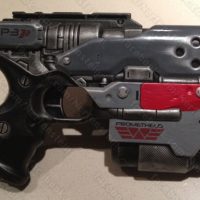 Regulars to my blog, Facebook or Twitter will probably know I'm a huge fan of the Alien franchise, well Alien and Aliens, the others didn't happen haha. I'm also a fan of Ridley Scott, to a degree. Needless to say upcoming movie Prometheus is high on my list of movies I'm looking forward to, it's THE film of 2012 for me.
Following on from the Sulaco mod of last week, I bring you the handguns of Prometheus, well, in my mind. The main mod is the Nerf Element Ex-6 pistol and a mini knockoff version I found in a pound / dollar store. Couldn't resist purchasing the mini-me version, but truth be told it's useless, too small even for my small hands, still it looks cute with the Element Ex-6.
Just want to give a shout out / thanks to 'Never Say No To Panda!', from the AVP forums for giving me permission to use the new Weyland logo from Prometheus. Well we assume, having studied the Prometheus movie images released so far I'd say the Panda got it pretty darn close. Anyway it saved me a good hour in Photoshop, so cheers to him.
Despite following Prometheus movie news closely and looking at the trailer and all the images released, I haven't seen any weapons as yet, so this is my fantasy take on what it might look like Nerf style, chunky and bad-ass!.. You know.. for close encounters.
I mounted a flashlight into the body of the Nerf Element and fully weighted it so it's meaty. Went with a gray and red theme, mainly because I had those paints available, but also to tie-in with the deep red Weyland logo.
Anyway.. that's all, another Alien Nerf mod… I really need to switch things up a bit!
Have a good week.
Other Alien / Aliens Nerf / Blaster mods:
Nerf Vortex Vigilon 'Ripley's Hope' space cruiser
Buzz Bee Tek Alien head Giger mod
Weyland Yutani Nerf Element mod
Aliens Sulaco ship Nerf mod
Nerf Buzz Bee Aliens Pulse Rifle mod
Post originally written for GirlyGamer.com.au and Nerfenstein.com (or Facebook.com/Nerfenstein