River Song's Alpha Meson blaster pistol Nerf mod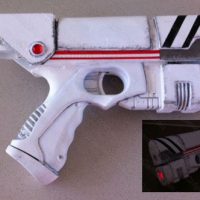 River Song Alpha Meson blaster pistol Nerf mod – Back with another mod this week. This time in the form of River Song's Alpha Meson blaster pistol, the one she uses in The Pandorica Opens (Doctor Who). I think a Nerf Scout would actually be the better Nerf Pistol to use as a base and the gun River uses in "Doctor Who" does appear to have a Scout trigger and a Nite Finder red light. I can't get Scouts, so I've used a Nite Finder EX-3 because I had one handy and it of course comes with a built in red light. Note this is a homage Alpha Meson blaster pistol, it is not meant to be an exact replica of the one River Song uses in the show.
Making River Song's Alpha Meson pistol
Lessons….
A few things with this mod I will change next time I do a River Song pistol. Firstly this Alpha Meson blaster breaks the dry brushing rule because it's white, there is no color you can dry brush onto white in its truest sense, next one I do won't be white. If you want to stick with the spirit of the original River Song Alpha Meson blaster pistol, go for a base of light grey, to leave yourself room to do the highlights.
Personally I thought this gun looked a lot neater in the grey primer I used and I'd like to experiment with that in the future.
River Song's Alpha Meson pistol – Almost
Changes….
As you will see, my version of the River Song Alpha Meson has a few changes to the original. Firstly I chose not to add the top section (site rail type thing) because I liked the whole thing flat. I also never added on the painted number and I added a red stripe section and matching red 'LED' beading at the rear. This was for no other reason than I thought the plain dirt white of the original was boring.
River Song's Alpha Meson pistol – Done!
This time…
I enjoyed this mod because it was more than just painting, there was a lot of other aspects to it. I think I will definitely do another one of these… at some point and it will be better.. because it won't be white lol.
Take care guys and happy Nerf modding / prop making.
This post written for girlygamer.com.au and facebook.com/Nerfenstein. Join me on Facebook! We'll have fun.. seriously.. good.. prop making joy.
Shot to other social networks via foam dart.