Buzz Bee Rapid Fire mod Gears of War old skool rifle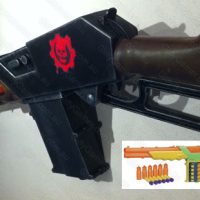 As you're no doubt aware if you're one of my lovely regular readers here, I've had 4 Nerf / Buzz Bee mod projects on the go at once. Why? Because I'm easily bored and distracted lol. I started this Buzz Bee Rapid Fire rifle paint mod last weekend from memory, but I got sidetracked by the Zombie Shotgun Buzz Bee Double Shot mod, and then again by my Mav2D2 Nerf Maverick R2D2 Mod. Finally got this finished this weekend though, just so it's done and I can hang it in the Nerf Gallery of geek.
This Buzz Bee Rapid Fire Rifle has the usual sanding, cleaning, priming, painting and dry-brushing. I then decided to hit it up with a "Gears of War" logo for some character. An odd mix you may be thinking, I mean can you seriously imagine COG unit Delta Squad trying to fight off the Locust Horde with a crappy, lever action rifle? No me either, it would be a bloodbath and not in a good way… but it makes for a cool Buzz Bee mod, because like a Jackson Pollock painting, it makes you question what the hell it's all about LOL.
Oh a side note I figured out a no hassle way of doing a 'woodgrain effect' without all the dremel / latex business. Thick stick coat of paint with the larger brush, let it dry and it will have brush strokes in it, dry briy them with a couple of diffrent browns and you've got wood!… Ermm so to speak lol
This Nerf / Buzz Bee Mod post written for GirlyGamer.com.au
for all your geekery needs… seriously… go there.. if you're on Tumblr or Posterous and seeing this.