Buzz Bee Double Shot Zombie Cure shotgun paint mod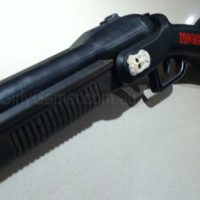 Buzz Bee Double Shot Zombie Cure shotgun paint mod – Well it's been about 4 weeks since I did my first ever Nerf / Buzz Bee paint mod. You can see my first attempt here: Buzz Bee Shotgun mod and Mass Effect pistol. As I got two Buzz Bee Double Shots in the box I decided to do the second one different by sawing off the barrel, thus making it a sawed-off shotgun (or sawn-off shotgun if you prefer). What are sawed-off shotguns handy for? Why fighting the zombie hordes of course. So this is my Buzz Bee Double Shot sawed-off shotgun Zombie Cure paint mod!
Buzz Bee Double Shot Sawn-off Shotgun Mod
First things first, I TOTALLY screwed up the 'sawing off' of the barrels. I don't know what the heck happened, I think maybe the hacksaw blade was bending as I was sawing, it started to curve and there was nothing I could do but go with it. The sawed-off barrels were meant to be a flat / straight edge, but as you can see they came out rounded. I wasn't happy at first, but after I primed and matte coated it, I started to think maybe this was a fortuitous error, because it looked kind of cool with the barrel curving back in similar fashion to the fore-end (pump) below. Anyway there was nothing I could do about it thanks to Mr Hacksaw being a pest, thus the weird curved barrels.
For detailing on the Zombie Cure Buzz Bee shotgun I did the usual dry-brushing, but I wanted to add something extra.
Thanks to the awesome Hungry Designs, I knew just the thing, her new Day of the Dead cameos. It just so happened these bad boys fit over the hinge pin area almost perfectly. The detail in the cameos is awesome (carved from a Hungry Designs original picture) and they added some real flair.
To set this off I also made a stencil and sprayed through to get the "Zombie Cure" paintwork on the receiver section.
I was going to do blood drips down the front, but decided sometimes less is more.
Anyway.. you would wipe zombie blood off your weapon of choice wouldn't you.. that stuff must smell! LOL
Quick How To – Buzz Bee Double Shot Sawn-off Shotgun Mod
Right just to finish with I thought I'd do a quick 'how to' do this Buzz Bee mod for anyone else that wants to try it. Saw off the barrels to the length you desire, then start as usual with the sanding, cleaning, priming, spraying black (a couple of even coats). Dry-brush in the detail (gun metal for the barrel, a couple of shades of brown for the fore-end section, grey for the stock end, metal on any bolts, trigger work etc), get your HungryDesigns.com cameos and glue them in place, one on each side. I did touch up paint after that dried, around the cameo engraving with the same black as the rest of the gun in that area. Use your stencil, spray… coat! and you're done, one sawn-off double barrel Buzz Bee shotgun mod for killing zombies. Don't take it outside!
Beginners Nerf / Buzz Bee Mod Guide – from a beginner to beginners.
Written by GirlyGamer for GirlyGamer.com.au and fired – via Nerf or in this case Buzz Bee Double Shot – to Posterous and Tumblr. If you use those sources, be sure an comment at GirlyGamer.com.au as GirlyGamer doesn't check those.. seriously.. she doesn't.. she does talk about herself in third person however.