Nerf paint mod the Stampede black with red plating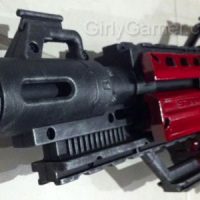 Nerf paint mod – Nerf Stampede black with red plating – Here's my Nerf Stampede painting mod. This was terrifying to start because as a total beginner to Nerf mods, even by way of just painting and dry brushing, this was an expensive gun and I didn't want to screw it up. Caution to the wind I cracked on and the result was sweet! (for a beginner anyway).
Again I went with a red and black metal theme, not sure why. I had in my mind a sort of Mass Effect Nerf Stampede, but then saw someone else had done that and didn't want to copy, so did my own thing. There was a lot of dry brushing on this one, for all the metal areas. I used bolt gun metal for the effect, sadly the image doesn't do the detail justice, but thems the breaks.
If you're looking for a great Nerf gun to paint mod, this is the one, it's pretty hard to screw this up because it's such an awesome gun to begin with.