Steampunk revolver gun mod Firefly Serenity inspiration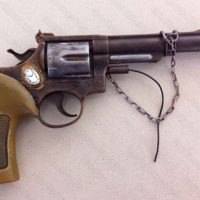 Steampunk revolver mod Firefly Serenity inspiration – I attempted my first steampunk mod over the weekend and came up with this. When I saw this gun in the store I picked up a few of them because they were fairly cheap and I figured they'd be good to practice steampunk gun modding on for that reason. I didn't want to attempt steampunk modding on one of my Nerf guns because if I messed it up that would be expensive.
When I saw this revolver Firefly and Serenity came to mind, not that this looks exactly like Mal's pistol in Firefly, but it's a long revolver, so connection for the mod was made. I didn't have a lot laying around that was 'steampunk', so just used what I had.
Steampunk pieces for sale
I learned a lesson here, old bits of crap are cheap, but add the word steampunk onto them and they suddenly become very expensive. For this reason the watch parts I was after never materialized. I may as well have bought actual analogue watches and taken them apart myself given the extortionate cost of buying things labeled steampunk in Australia. Instead I used bits courtesy of Hungry Designs (she kindly donated some brassy bits and pieces to my cause).
Girly touches to steampunk guns
A lot of women are into steampunk, which I think is awesome! I went with a feminine theme on this revolver mod rather than a masculine theme. The screw holes are filled with brass roses and there's a cameo watch adornment, along with a chain and an 'antenna'.
Steampunk gun mod – Lessons
I made a few mistakes with this, so I thought I'd make a section on lessons aka what not to do when making a steampunk gun mod lol. Firstly this is a light gun, but it looks like it should be heavy. Sadly I started gluing things before I thought to weight it, then it was too late. So when you're steampunk modding plastic guns, remember to dismantle and weight them FIRST. I'll be doing this on the next one. Thanks to the folks at OzNerf I now know a simple way to weight toy guns for realism, sinkers and hot glue. Fill the parts of the gun that won't interfere with the mechanism with hot glue from a hot glue gun and fill with sinkers (or vice versa). I did this with a snub nose colt and it worked a treat, great for Halloween costume realism (just don't take them outside if they look too realistic!).
Colors for Steampunk modding
Bronze, copper, bolt gun metal and silver. Needless to say starting with a black base works well… though this is merely my personal opinion and this is my first steampunk gun mod, so what do I know.. not much!
That's it, just a quick write-up for this one.
Have a great day!
Join me on Facebook why don't you! Nerfenstein's Facebook.