We are the Fallen vs. Evanescence ding ding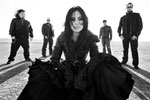 We Are The Fallen vs Evanescence. No.. no.. no! You can't say you're not trying to be like Evanescence and then have Carly Smithson singing Evanescence songs! And for the record she doesn't sound as good as Amy Lee so you're shooting yourself in the foot.
Carly has a great voice, let her sing We Are The Fallen's new songs and leave the Evanescence songs in the past, or, if you're not going to do that, don't sit in interviews spouting off about how you don't want to be compared to Evanescence. Rant Over… for now.